Welcome to the Physical Education Department at CMS Elementary School
As George Bernard Shaw said,"We don't stop playing because we grow old; we grow old because we stop playing."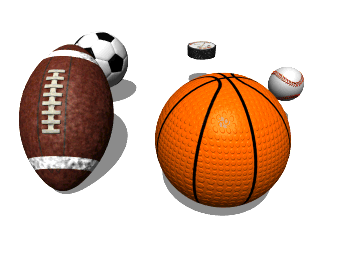 Let's have a ball this school year!
 Please read, the Physical Education information on the district website and our PE page.
It was a very wet 1st quarter of the school year! These wet conditions made it nearly impossible to use the football field for P.E. classes.  As a result a few classes did not complete the endurance portion of the fall fitness test (1 mile for grades 4 & 5, 1/2 mile for grades 2&3 and 1/4 mile for 1st grades).  We have been including endurance work-outs during our P.E. classes, but it would be very beneficial to get your child(ren) outside to work on endurance 3 or more times per week.  The poor weather and field conditions delayed our completion of the tests and the distribution of the Fitness Report Cards.  Please look forward to receiving your child(ren)'s fitness report card at the fall conference.  If you have any questions or concerns, please stop to speak with us or email us. Please guide your child(ren) in their physical development by participating in physical activity every day.  The Surgeon General of the United States suggests 60 minutes of exercise everyday for children.
We have provided a sample work-out to get everyone on the move.
Practice doesn't necessarily make perfect, but it will make POSSIBLE!  A little practice will make a BIG difference.
Try this 10 minute work-out, then build on as your fitness level improves:
1 minute of curl-ups (strength)
15 seconds of push-ups (strength)
15 seconds of soldier salutes (strength)
15 seconds of skier jumps (agility)
15 seconds of bell jumps (agility)
30 seconds of v-sit and reach; relax and repeat 30 secs. (flexibility)
15 seconds of side stretch to each side (flexibility)
5 minute jog (or combine walk and jog) (endurance)
1 minute cool down walk
30 seconds of v-sit and reach (flexibility)
COMMIT TO BE FIT!